I have wanted to get into make up more now that I've gotten my feet wet so to speak.
So, I've been all over YouTube looking to see what products the makeup gurus like.
And it seems that a lot of the products are on the expensive side (IMO).
Let me say that when it comes to getting things for me I am extremely CHEAP!
So, I'm partial to
ELF
products.
You can NOT beat their prices…which I love.
There are some products that I have gotten from them that I just don't care for but for the most part I have been really pleased with what I have gotten from them.
I'm looking to venture out to other cosmetic brands that are on the not so expensive end.
I've gotten a
NYX
jumbo eye pencil which I use as a base and I love it!
I've also gotten
Wet N Wild
mascara and lots of nail polishes…love those as well.
I haven't gotten into
MAC
all that much but I do have a palette that I got a few years back, a lip liner in chestnut which I absolutely love, and I had some shadows (I only have 1 now) which were misplaced during my move from college back home
L
.
My home girl
Shana Janelle
put me on to a website
http://www.thebodyneeds2.com/
which sells sample size cosmetics.
I am dying to get a few and try them out!
I also want to try some of the
Sleek
palettes which I learned about from Samantha of
Beauty Crush
.
Now, this weekend I am going to be a face model for my girl Taz at the Paint Me Pretty 3D event here in DC. The event is from 4pm to 11:30pm at the F.U.R. nightclub. You can go to the
Playing In Paint
website for all the details. I'm super excited about this event because it's my first real makeup/beauty event and I just know I'm going to learn so much! I'll be sure to post about this next week!
So, here are a couple of my favorite makeup items...any additional suggestions are greatly appreciated! Oh, and I am a brush whore (Thanks Shana for that phrase lol) I love love love brushes! I'm always using a new brush for everything I do. I'd love to hear what suggestions you have for me in the brush area.
Besos,
Mickey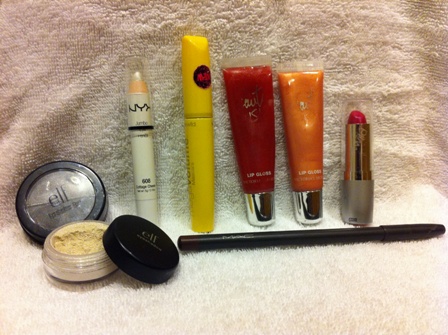 From left to right:
ELF shadow duos in black licorice(a shimmery black and a grey)
ELF mineral shadow in angelic (a beautiful shimmery white)
NYX base/jumbo eye pencil in cottage cheese
Wet N Wild mega volume mascara
VS lip gloss in juiced berry and lotta colada
(I like these because they aren't sticky like some others I've tried)
Wet N Wild lipstick in 521A (it's a HOT pink)
Mac lip liner in chestnut (my absolute favorite!)