I always thought
K&G
was a men's store with suits and stuff.
Boy was I wrong.
My husband was in a wedding last Saturday and the fellas got their suits from K&G.
I decided to ride along with him just to see what they had in the store.
To my amazement it was just like a TJ Maxx or
Burlington
or
Marshalls
.
They had lots of brands at very very low prices.
I didn't get a chance to really look in the store good so I decided to google them to see if they had website and they did!!!
So, I found a look that I wanted to recreate…
and thought that I'd search K&G to see what I could find.
Well…here is what I put together (minus the clutch…and I'm sure for a whole lot less :) )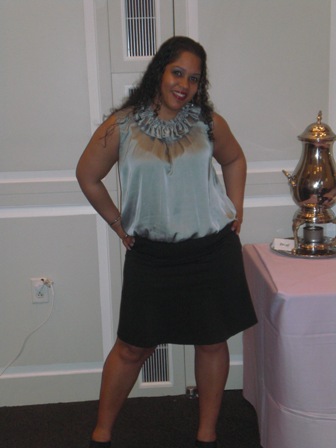 (This is MY interpretation of the look…the way I see MYSELF with this look.
Yes I know it's not exact, and the colors are different, but again, this is Mickey's interpretation of this look
J
)
Kenneth Cole Reaction Grey Ruffled Blouse $19.99
Ruffled collar buttons in the back (single button) and it's cinched at the waist.
I decided that this was the type of blouse I could tuck in and it give you a different look.
AK Anne Klein Black Stretch Skirt $19.99…on sale for $9.99
It was a belted, high-waisted pencil skirt with a little stretch in it.
However, I did not end up wearing this skirt because I ordered a size too small and the store didn't have my size.
L
So I wore just a simple a-line black skirt that I've had for a while. I ended up exchanging the skirt for some perfume.
Nine West Angel Eyes Black Lattice Peep-Toe Pumps $19.99…on sale for $9.99
Stylish pumps by Nine West have thin straps around the front, a zipper in the back and a stacked stiletto heel.
I did not wear these because it was raining.
L
But the weather is starting to break so I'm going to finally get to wear these.
I also got…
Dark-Wash Distressed Jeans $19.99…on sale for $9.99
Skinny jeans with paint splatters and worn patches. I needed some jeans and I thought these were a little unique.
I like the cut…they fit my curves lol so…why not for $9.99???
Robert Louis White Ruffled Blouse $9.99
Loose and silky, this blouse sports ruffles, buttons and lightly textured material. I liked this blouse more online than I did when I got it.
It was just ok.
I was impressed over all.
I'll definitely order something from them again.
Let me know what you all think.